Sil-Select Stock ™ FertiPro
Soluzione base per la preparazione di sistemi di gradienti da utilizzare nelle procedure di preparazione del seme.
Consiste in una soluzione isotonica di particelle di silice rivestite di silano in una soluzione bilanciata di sali, chimicamente ben definita, con HEPES (PH buffer).
La densità di Sil-Select Stock ™ è di circa 1,12 g/ml.
Validità prodotto 18 mesi da data di produzione.
Prodotto marcato CE come dispositivo medico secondo la Direttiva Europea sui dispositivi medici 93/42/EEC e resigstrato presso il Ministero della Salute come da normativa vigente.
| codice | confezione |
| --- | --- |
| 12.SIS100 | 100 ml |
| 12.SIS500 | 500 ml |
| 12.SIS100G | 100 ml con gentamicina |
Bibliografia
     Dal Canto, MB.; Mignini Renzini, M.; Brambillasca, F.; Cepparo, H.; Comi, R.; Villa, A.; Rangoni, G.; Mastrolilli, M.; Crippa, M.; de Ponti, E.; Nielsen, HI.; Fadini, R. , IVM–the first choice for IVF in Italy., Reprod. Biomed. Online (2003),Vol.13,No.2,pp.159-65
     Ha, JH.; Oum, KB.; Chung, HM.; Chung, MK.; Kim, HK.; Ko, JJ.; Yoon, TK.; Cha, Ky.;, Comparison of Sperm Motility, Recovery Rate, and Fertilization Rate using Three Different Sperm Preparation Methods: Swim-up, Percoll, Sil-Select., Korean J Fertil. Steril. (26),Vol.2,pp.257-263
     Jarupoonpol, S. Choktanasiri, W.; Wongkurlarb, A.; Rattanasiri, S.; Sukprasert, M., Sperm Motility and DNA integrity affected by different g-forces in the preparation of sperm in uterine specimens., Andrologia (46),Vol.4,pp.391-398
     Jedrzejczak P., Rzepczynska I., Taszarek-Hauke G., Pawelczyk L., Effect of sperm subpopulation's kinetics on human fertilization in vitro, Archives of Andrology (2005),Vol.51,pp.185-193
     Trokoudes, KM.; Minbattiwalla, MB.; Kalogirou, L.; Pantelides, K.; Mitsingas, P.; Sokratous, A.; Chrysanthou, A.; Fasouliotis, SJ.;, Controlled natural cycle IVF with antagonist use and blastocyst transfer., Reprod. Biomed. Online (2005),Vol.11,No.6,pp.685-9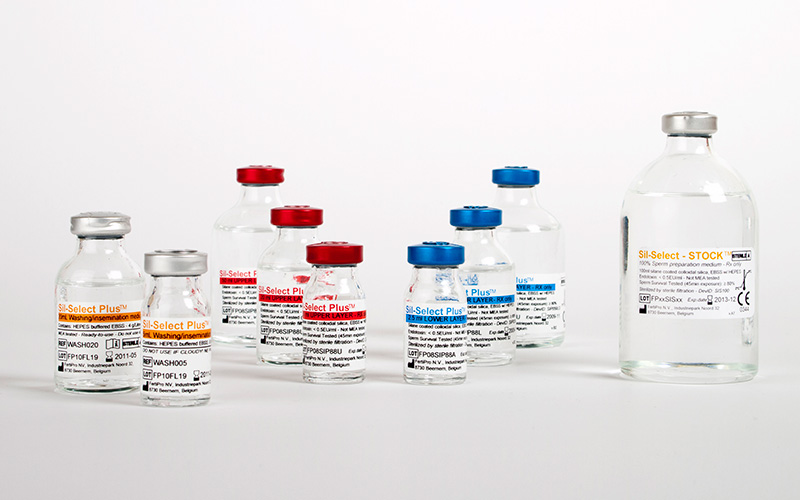 Desideri ricevere maggiori informazioni
sui nostri prodotti di preparazione seme?