ZyMōt ICSI Sperm Separation Device
ZyMōt è un dispositivo progettato per la selezione microfluidica di spermatozoi con le migliori qualità dal punto di vista sia morfologico che genetico e fisiologico, da utilizzare per le procedure di FIVET o ICSI.
Permette di evitare tecniche dannose per il seme, come ad esempio la centrifuga, che generano stress ossidativo causando frammentazione del DNA, portando al fallimento di procedure di FIVET o ICSI.
Non richiede alcun pre-trattamento del campione, riducendo così eventuali rischi di contaminazione.
La profondità limitata dei canali microfluidici limita la migrazione di spermatozoi compromessi, consentendo a quelli più sani e motili di migrare verso l'outlet.
Rapido e di facile utilizzo, fornisce una resa eccellente entro 30 minuti ed elimina i lunghi tempi di preparazione presenti nelle attuali metodologie di preparazione del seme (sistema di gradienti – swim up).
| codice | confezione |
| --- | --- |
| 50.ZIH0002 | 10 pz |
Pubblicazioni
Effects of the microfluidic chip technique in sperm selection for intracytoplasmic sperm injection for unexplained infertility: a prospective, randomized controlled trial.
Yetkinel, S., Kilicdag, E.B., Aytac, P.C. et al. J Assist Reprod Genet (2019) 36: 403. doi: 10.1007/s10815-018-1375-2
Microfluidic selection of spermatozoa retains chromatin integrity and yields higher pregnancy rates.
Parrella, A. et al., ASRM 2018
Exhaustion of Racing Sperm in Nature – Mimicking Microfluidic Channels During Sorting.
Tasoglu, S., Safaee, H., Zhang, X., et al. Small (2013), 9: 3374-3384. doi: 10.1002/smll.201300020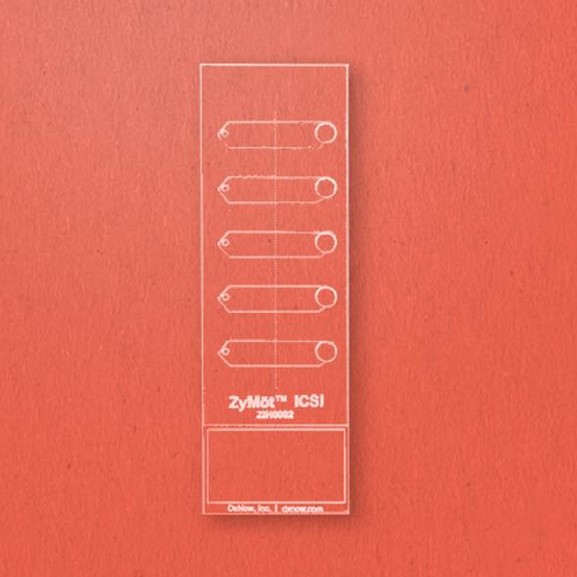 Desideri ricevere maggiori
informazioni sui nostri vetrini?